The Escape Pod is a capsule that (supposedly) will take Stanley out of the game world.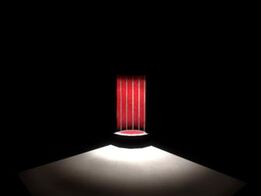 Information
The Escape Pod is apparently a red capsule modeled after life-saving capsules generally used during emergency situations. The pod seems to only fit for a person, and it appears to be the only pod existing in the Office.
The Escape Pod make its only appearance in the Escape Pod Ending, where Stanley managed to foil the Narrator by leaving him in the Boss's Office. Stanley then advanced to the open door next to his office, running through the Escape Corridors until he finds the Escape Pod. However, upon entering it, the pod doesn't work. And so
he never did escape the game. This is explained in a banner prior to entering the pod. The banner warned the player that both Narrator and Stanley must present for the pod to activate, and if one of them is not present, the pod will not activate.
Trivia