Jurassic World: Dominion Dominates Fandom Wikis - The Loop
Play Sound
| | |
| --- | --- |
| | UNOFFICIAL CONTENT |
| | This page details content that was made by the community (Mods, machinimas, fangames, etc…) The content on this page is not canon to the series and is not included within the core game. |
No! No, no! LineTM, YouTM do know we're looking for The Stanley Parable, right? The story?
THIS ARTICLE IS A STUB:
You can help The Stanley Parable Wiki by expanding it.
The Escape Pod Ending Overwrite Mod is a modification for The Stanley Parable, modifying the Escape Pod Ending, adding Narrator dialogue when Stanley is teleported to Floor 754. Due to this, this makes the Escape Pod actually run and Stanley escapes from the office with him, with the two both finally free from the endless loop of endings and being able to grasp freedom at long last. It is also alternatively titled "Alt Escape Pod Ending".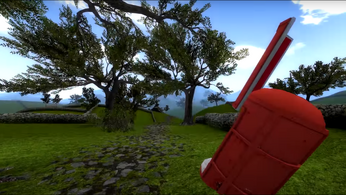 Narration
Main article: Escape Pod Ending Overwrite Mod/Narration
Trivia
The Narrator's voice actor, Kevan Brighting, actually participated in the mod, adding the dialogue.

Kevan also chose Pavane, Op. 50 as the music playing during the ending, and the mod's developer, Jozy, commented that he made a great choice.

In the mod, the Narrator is confused as to how the player actually managed to get to Floor 754.

After the escape, he also comments how happy he is to be free from the restarts, endings and fading to black, suggesting he too wanted to be free from the story's unlimited endings.

This mod was inspired by this image that was uploaded to the Steam community in 2014 about what it would be like if the escape pod worked.
Links
Playthrough of the modded ending on the modder's youtube channel
Escape Pod Ending Overwrite Mod on mega.nz