Jurassic World: Dominion Dominates Fandom Wikis - The Loop
Play Sound
Unfinished Section
There's nothing here.

Location Information

Accessible via:
When you get to the Warehouse, jump off to the catwalk and go through the blue door repeatedly.
Leads to:
Games Ending, Art Ending
Place of ending(s):
None
Points of Divergence
0

Gallery

Endings
Access
"
You see? It's nothing. No one's even built this section of the map because you were never supposed to be here in the first place.
"

–The Narrator annoyed by Stanley going through the blue door to see nothing, from original mod
The unfinished section is a huge room full of developer textures where you end up in if you go through the blue door in the Colored Doors Room three times.
To get this location
This room is secret, unlike others. To get it, go through the right door, then continue straight to the Warehouse. Instead of riding the cargo lift to the Phone Room, jump off to the catwalk. When you reach a red and blue door, go through the blue door. The Narrator will take you back and give you another chance to go through the red door. Go through the blue door again, which makes the Narrator hide the blue door behind and an arrow is added pointing to the red door. When you go through the blue door again, you enter this room. It makes the Narrator very frustrated.
When you get taken back to the Two Doors Room this time with a third door, going through any door will take you back to the unfinished section, but it will have The Stanley Parable Experience Rating Board, in which you must rate your experience.
Original mod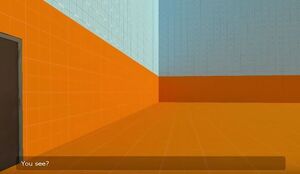 In the original Half-Life 2 mod, the room was different. It had cyan and orange walls with an orange floor, and light also came from the corners.